Gate terminal started commercial operations of its two new truck loading bays
7 December 2017
Gate terminal started commercial operations of its two new truck loading bays
Gate terminal, a joint venture of Gasunie and Vopak, has successfully started commercial operations of its two new truck loading bays at the LNG terminal in Rotterdam, the Netherlands, on Monday 10 July 2017. These two truck loading bays are highly automated and combine best practices for safe operations with an excellent service level.
Gate terminal experienced a 50% increase of the truck loadings in the year over year comparison up to approx. 750 trucks being loaded in the first half of 2017. By adding two new truck loading bays to the existing bay Gate terminal is prepared to efficiently cater for future growth in the demand for LNG distribution via road or containers. This will support the effort of Gate terminal customers to deliver LNG to retail stations, industry and ships.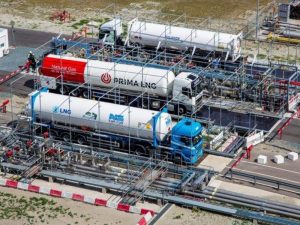 LNG is an alternative fuel for many sectors as it combines excellent qualities from an air quality point of view with lower CO2 emissions after burning compared to other fossil fuels. It is therefore an excellent choice in markets where alternative energy choices are limited.
Gate terminal supports the development to use LNG as fuel by investing in infrastructure to allow customers to load LNG in smaller quantities. Trucks are loaded since 2014 on one bay and in September 2016, a third berth was added to load bunker vessels.