Sustainability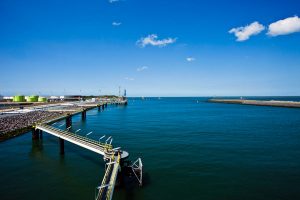 Gate terminal is aware if its corporate social responsibility. We aim to provide a healthy and safe working environment for our employees, every day. Safety for our terminal's immediate surroundings and the protection of the living environment have equal priority. This means that we reduce the environmental impact of our activities as far as possible.
In accordance with our environmental management system ISO 14001, we work to continuously improve our services and activities. Careful planning and preparation of our activities enable us to ensure that we make minimum impact on our surroundings, for instance through restricting our use of raw materials.
Sustainable operations
Gate terminal aims for sustainable operations. That is why we purchase, for instance, residual heat released during energy generation at the adjacent power plant. This residual heat is used to heat and regasify the cold LNG. This does not cost any extra energy. The water used in this process is then cooled to seawater temperature before being discharged, which is better for the ecosystem.