Gate terminal simultaneously reloads for the first time two LNG carriers with liquefied natural gas (LNG)
29 September 2014
For the first time in its history Gate has simultaneously reloaded two LNG carriers with liquefied natural gas (LNG).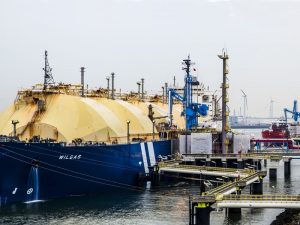 On 4 September 2014 both the "Wilgas" as the "Coral Methane" were moored and reloaded simultaneously at the jetties of Gate terminal. Reloading of LNG at Gate started in 2013. Since the modifications of the existing jetties to accommodate smaller ships, Gate has carried out 16 operations for these types of vessels. The investment decision for the construction of a new break bulk terminal was taken on 1 July 2014, which comprises a dedicated berth for small scale tankers and bares to enable future growth.
In September 2011, Gate terminal, a joint venture of Gasunie and Vopak and located on the Maasvlakte in Rotterdam, started operations. Gate terminal contributes to diversifying the European gas supply by providing access to LNG originating from countries around the world. At Gate, LNG is received, stored, regasified and then fed into the Northwest-European gas grid. In January 2014, Gate has successfully launched a tank truck loading station for trucks and containers, with a total capacity of 5,000 trucks per year. Over the past year, Gate has developed towards a hub, where LNG can be re-exported to other parts of Europe and around the world.