Gate terminal celebrates opening new LNG facilities
1 December 2016
Gate terminal celebrates opening new LNG facilities
Gate terminal, its shareholders Gasunie and Vopak and its partners Shell and the Port of Rotterdam proudly celebrated the expansion of the LNG terminal at the Maasvlakte in Rotterdam. With this expansion Gate terminal now has a third berth and new special infrastructure for the loading of small LNG vessels.
These small LNG vessels will enable distribution to LNG terminals in other North Sea and Baltic ports where large LNG tankers are prohibited to deliver directly due to their draught. In conjunction with LNG bunker vessels, the new berth will in future also make it easier for ocean-going vessels to fill up with LNG in Rotterdam. As with other kinds of maritime fuel, LNG can be pumped on board large ocean-going vessels using bunker vessels. These can now be loaded at Gate terminal which receives LNG from large LNG tankers which arriving from several global origins. The use of LNG as a maritime fuel is being encouraged by the European Union, the Dutch government and the Port of Rotterdam because of its more environmentally-friendly properties.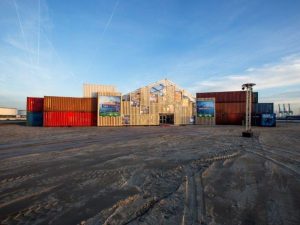 To celebrate the successful completion of the new facilities Gate terminal and the Port of Rotterdam hosted 400 guests from the marine industry, the LNG industry and several authorities for a networking event. The program included a mini-symposium in which several experts shared actual experiences and new developments regarding the use of LNG as marine fuel around three main topics: Experiences by ship-owners, Technical developments and Supply chain developments.
Quotes from speakers during the symposium:
Allard Castelein, CEO, Port of Rotterdam Authority: "The Port of Rotterdam Authority highly values a more sustainable transport sector. As a result of cooperation with many parties we lead the way in this transition, Rotterdam is the LNG hub of Europe. A new facility as the third berth is a good example of what you can achieve together."
Eelco Hoekstra, Chairman of the Executive Board and CEO of Royal Vopak: "Vopak has earmarked storage and handling of LNG as one of its strategic focus areas. This third jetty is an opportunity to facilitate the introduction of LNG as a more sustainable transportation fuel. It also strengthens the hub function of Gate terminal in Northwestern Europe for our valued partners and customers."
Han Fennema, CEO and Chairman of Executive Board of Gasunie: "With this facility we enable the transport sector – both maritime and by road – to significantly reduce its carbon footprint and other pollutants. The usage of gas in the transport sector illustrates the specific merit of natural gas in the energy transition compared to iuts alternatives."
Lauran Wetemans, General Manager Downstream LNG Shell: "LNG is a realistic and logical fuel choice for ship owners and operators, and the new jetty is great news for the industry. We believe LNG has a strong business case as a transport fuel and we have teams across the globe working with customers to determine the best fit for them."
Timo Koponen, Vice President, Flow & Gas Solutions, Wärtsilä Marine Solutions: "The latest extension in Gate terminal is a prime example of the vision and commitment needed to build the necessary steps in building feasible LNG story for marine customers. The timing in opening the facility could hardly be better suited to match with the momentum in the market for accelerated interest for cleaner ship fuel.'
"Availability of LNG marine fuel is not an issue any longer," says Tor Morten Osmundsen, CEO Skangas.
Jan Valkier, CEO, Anthony Veder Group N.V:"With this new LNG break bulk terminal flexibility has increased to load the LNG carriers of Anthony Veder for either bunkering activities or further distribution of LNG to places with no access to this relative clean fossil fuel for their industrial use or gas to power. It is also a mile stone for the Dutch gas roundabout since it now allows us also to distribute gas into Europe by ship or truck instead of by pipeline."
Dick Höglund, Fnancial Manager Terntank Rederi A/S: "the future with running our engines on LNG just started and there is no way back to the traditional. We must all try to contribute for a greener and cleaner shipping it is of a great responcibility form Terntank, and we are happy that the technique so far is better than our expectations. "
Rolf Brouwer, Managing Director Gate terminal B.V.: "With this new berth Gate terminal has increased its service to enable our customers to load LNG in smaller (bunker) vessels. With this new feature Gate terminal contributes to a solid and reliable supply chain to bring LNG to ships and other users. Gate terminal keeps building out its capabilities and will add two new truck loading bays in the second quarter next year. "