Start transport liquefied natural gas (LNG) per truck from Gate terminal
21 January 2014
Dutch terminal grows into liquefied natural gas (LNG) hub, start of small scale LNG for the use of LNG as fuel is a fact.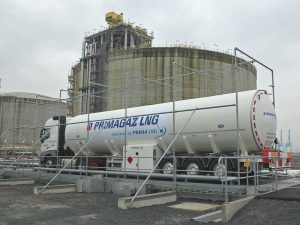 On 20 January 2014 Primagaz Benelux loaded the first trailer of liquefied natural gas (LNG) at Gate terminal in Rotterdam. Primagaz Benelux offers LNG for use as fuel for trucks and barges in addition to industries not connected to a local natural gas network. LNG provides significant economic and environmental benefits in comparison to traditional fuels. For that reason Primagaz Benelux is confident the small scale LNG market will grow substantially in the coming years and it is Primagaz' ambition to become the leading LNG provider in the Benelux.
Prima LNG, the logistics partner of Primagaz Benelux has signed an agreement with Gate terminal to load LNG by trailer. Both Primagaz Benelux and Prima LNG are 100% SHV Energy subsidiaries, the leading LPG distributor in the world. Active in small scale LNG in both Turkey and China, Prima LNG has been created by SHV Energy to accelerate activities in Europe and will manage LNG supply and distribution across the continent. The opening of Truck Loading at Gate terminal represents another milestone in the development of small scale LNG and confirms the attractiveness of LNG as the fuel for the future.
PrimaLNG and Eneco recently signed an agreement for LNG Supply. As a capacity holder in Gate, Eneco considers LNG as a valuable addition to its existing gas portfolio in the short and long term. The new small scale LNG market has great potential due to the increasingly stringent emissions standards for industry, marine and road transport in Europe.
Gasunie and Vopak, the initiators and partners in Gate terminal, originally developed this terminal as a LNG import terminal argued by means of ships. In addition to the importing capacity, Gate terminal is since 2013 also an export terminal. As a first step Gate terminal completed last year the additional investments to facilitate their customers to berth small vessels and reload LNG in order to support the small scale market and global trading developments. Now the commissioning of a truck loading station for reloading of LNG is a fact The Netherlands gets through Gate terminal the ability to not only transport gas through the Dutch pipeline network, but also transport LNG as clean alternative to traditional transport fuel for shipping and road trucks.