First commercial LNG cargo at Gate terminal
1 September 2011
First commercial LNG cargo arrives at Gate terminal. The liquefied natural gas (LNG) carrier 'Bu Samra' arrived at Gate terminal in the morning of the 1st September 2011.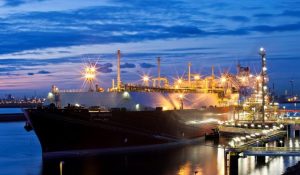 The liquefied natural gas (LNG) carrier 'Bu Samra' arrived at Gate terminal in the morning of the 1st September 2011. The 'Bu Samra' will deliver the first commercial LNG cargo into the Gate terminal. The 'Bu Samra' is a 266,000 m3 Q-Max LNG carrier with a length of 345 m and a beam of 46 m. The Q-Max carrier is owned by Nakilat and is used to transport LNG from the Qatar Liquefied Gas Company to customers in Europe.
The terminal has already received three LNG cargo's between June and July which were contracted by Gate terminal for commissioning and testing. The arrival of the 'Bu Samra' marks the milestone that Gate terminal has successfully completed this test phase and the terminal is now fully operational. From the start of the construction in 2008 the development of the terminal has remained in accordance to the original plan.
The throughput capacity of the terminal is 12 billion m3 of natural gas per year. Gate terminal is the first LNG import terminal in the Netherlands and will significantly contribute to the security of supply of gas in the Netherlands and the rest of Europe. Through this terminal, the Netherlands is connected to gas flows from around the world, which will further strengthen the position of the Netherlands as gas roundabout in Europe.
————————————————————————————————–
For more information, please contact:
Gate terminal B.V.
Peter C.M. Bassa
Manager Communications
T: + 31 181 799 000
M: + 31 6 22 40 73 82
E-mail : peter.bassa@gate.nl
Visit our website www.gateterminal.com for more information about Gate terminal. At the media libraryof our website you can download photographs and video about the progress of the construction of the terminal.
Profile Gate terminal B.V.
In 2005 N.V. Nederlandse Gasunie and Royal Vopak decided to jointly develop Gate terminal ("Gas Access To Europe"), the first independent LNG import terminal in the Netherlands and are the main shareholders of Gate terminal. The imported LNG will be unloaded, stored and regasified at the terminal before distribution through the gas transmission network for the European markets. The terminal will have an initial annual throughput capacity of 12 billion cubic meters per year (bcma) and can be increased to 16 bcma in the future.
Five European energy companies (DONG Energy from Denmark, EconGas from Austria, E.ON Ruhrgas from Germany, RWE Supply & Trading from Switzerland and Eneco from the Netherlands) have signed long term throughput agreements with Gate terminal.