Contractor Gate terminal
20 July 2007
and construction contractor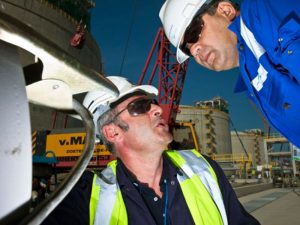 Gate terminal has selected a Consortium of Techint, Sener, Entrepose and Vinci, an experienced combination of Italian, Spanish, and French companies, as the main contractor to execute the engineering, procurement and construction activities in relation to the planned LNG receiving and regasification terminal at the Maasvlakte (Rotterdam, the Netherlands) location.
The shareholders of Gate terminal B.V., being Royal Vopak and NV Nederlandse Gasunie, expect to be in a position to take a final investment decision for the construction of the LNG terminal within a few months.
Profile N.V. Nederlandse Gasunie
N.V. Nederlandse Gasunie is one of the largest gas infrastructure companies in Europe. Its main tasks include operational management, maintenance and, where required expansion of the national gas transport grid. Safety and secure transport are leading principles. Gasunie actively contributes to the improvement of the functioning of the market for natural gas. In 2006 the throughput of gas was almost 100 bcm.
For more information:
N.V. Nederlandse Gasunie
Communication
Hansch van der Velden
Telephone : +31 (0)50 – 521 21 60
E-mail : j.h.van.der.velden@gasunie.nl
Website : www.gasunie.nl
Profile Vopak
Royal Vopak (Vopak) is the world's largest independent tank terminal operator specialising in the storage and handling of liquid and gaseous chemical and oil products. On request, Vopak can provide complementary logistic services for customers at its terminals. Vopak operates 75 terminals with a storage capacity of more than 21 million cbm in 30 countries. The terminals are strategically located for users and the major shipping routes. The majority of its customers are companies operating in the chemical and oil industries, for which Vopak stores a large variety of products destined for a wide range of industries.
For more information
Koninklijke Vopak N.V. (Royal Vopak)
Corporate Communication & Investor Relations
Rolf Brouwer
Telephone : +31 (0)10-4002777
E-mail : corporate.communication@vopak.com
Website : www.vopak.com
Profile Techint S.p.A.
The Techint Group is a multinational group with more than 60,000 employees and revenues of over 20 billion dollars. In over 60 years of activity, the companies, operative in five continents, have reached levels of excellence in the following areas of business: Engineering & Construction, Steel (Tenaris and Ternium), Energy & Power, Industrial Plants and Healthcare. The Engineering & Construction division has completed more than 3,500 projects around the world. Its highly qualified and experienced workforce realizes infrastructures, power plants, power transmission lines, pipelines, chemical and petrochemical plants and industrial plants.
For more information:
Techint S.p.A.
Communication
Alessandra Bertoli
Telephone : +39 02 4384 7837
E-mail : alessandra.bertoli@techint.it
Website : www.techint.it
Profile SENER
Sener Ingeniería y Sistemas, S.A. is one of the largest engineering companies in Spain, with international presence due to its establishment in Portugal, Poland, Argentina and Mexico. Sener's business is centred on the provision of engineering and construction services, as an EPC contractor, in the areas of Energy (Cogeneration, combined cycles, solar thermal generation), Gas, Refining and Petrochemicals. Sener additionally has important operations in the civil engineering sector (roads, high speed, airports,…) and architecture, as well as in defence, aerospace and naval engineering.
For more information:
Sener Ingeniería y Sistemas, S.A.
Luis Gabellieri
Telephone : +34 91 807 7296
E-mail : luis.gabellieri.@sener.es
Website : www.sener.es
Profile ENTREPOSE Contracting
ENTREPOSE Contracting is an international EPC contractor specialised in the design and construction of complex industrial projects in the oil, gas and energy sectors. ENTREPOSE Contracting operates worldwide and has recognized references in Production, Processing Facilities, Pipelines and Storage Tanks with timely and safe delivery of projects to the satisfaction of its Clients. ENTREPOSE Contracting is one of the world leading specialists for the construction of LNG tanks.
For more information:
ENTREPOSE Contracting
Clarisse Lebreton
Telephone : +33 1 57 60 93 40
E-mail : lebreton.c@entrepose-contracting.com
Website : www.entrepose-contracting.fr
Profile Vinci Construction Grands Projets
Vinci Construction Grands Projets part of Vinci (consolidated sales of €26,0bn in 2006, more than 145,000 permanent employees) is a worldwide leader in civil engineering and construction activities. The company has also been operating in the LNG storage tank construction sector for over 20 years, with successful realization in France, Qatar, Egypt and Nigeria. The company is currently completing the construction of two tanks in Mexico and one tank in Qatar.
More information is also available at www.vinci.com