2 million man-hours without LTI
26 April 2010
Celebrating 2 million man-hours without LTI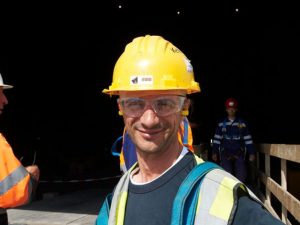 Monday April 26, the TSEV consortium and Gate terminal celebrated, together with more than 900 employees, an outstanding safety achievement of two million man-hours worked at the Gate terminal project without lost time injuries. A special safety event was organised in a large tent at the main office parking area to highlight this great performance.
The TSEV consortium and Gate terminal expressed that "Working safe is a very, very important challenge for us all. We want to excel in our safety behaviour and safety results. That is important for each of us individually, but also to prove that the LNG business is a safe and reliable industry. Demonstrating an outstanding safety performance in this high profile project, will help us qualify for new projects in the future and that will create future jobs.
We are convinced that by building this project in a safe manner, we are also capable of building the terminal to a very high quality level. Safety and Quality go hand in hand. Today we can say that together we did a very good job in realizing two million man-hours without lost time injuries. Our challenge is to keep this project a safe project until the end. We have about 1.5 million man-hours to go. Together we can realize this ambition".
A surprising SHE Moment followed the speeches, in which the disastrous impact of a fatal accident on an average family was demonstrated in a gripping manner. In a stage-play called "Daddy…please work safely", all workers were reminded on why it is important to work in a safe manner.
The event was closed with the hand-over of the 'Excellence in Safety' Awards to the Consortium Techint, Sener, Entrepose and Vinci by Guy Mariën, project manager of Gate terminal. All employees received a gift from Gate terminal to remember this excellent safety achievement.